Golf Betting Games Cliff Notes
Looking for a fun golf game? Here we have compiled some short notes on the most popular golf betting games. Whether you are playing in a foursome or a threesome, or wanting a fun game when playing alone, or you are high or low handicapper there is a game for you.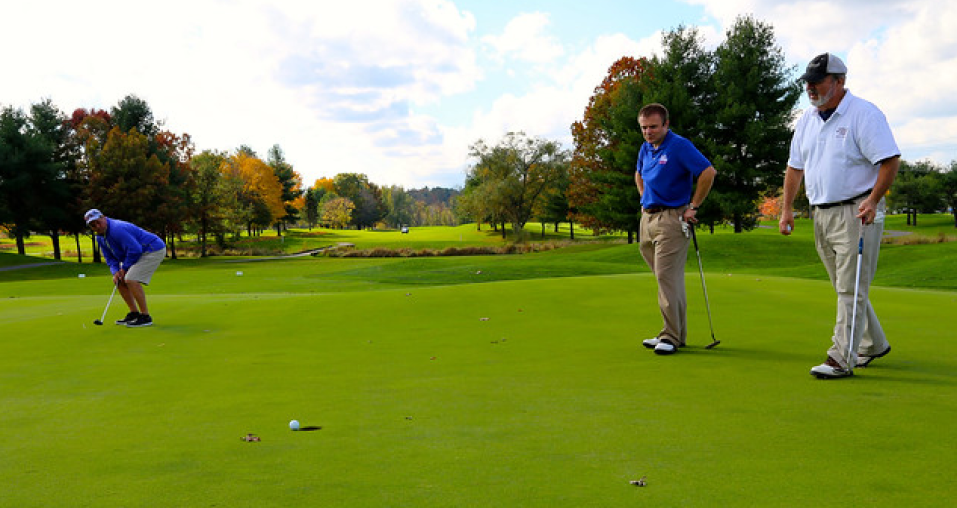 Do you like Skins? Try Aces & Deuces
Like in Skins, in Aces & Deuces you win the hole with the low score and you carry-over the bet. But unlike Skins, in Aces & Deuces you can also lose a hole with the high score. You can also set up different bets for the Ace and the Deuce. Check it out in your next round. Learn more about Skins and Aces & Deuces.
  Vegas or Monte Carlo
You love the Vegas game but it just has too many score combinations? Try the Monte Carlo option. Monte Carlo simplifies the Vegas bets by just multiplying the scores; but watch out, because a blowout hole can be costly. Learn more about Vegas.
  Playing solo?
Nothing like you, the course, and your honor on an early morning outing. Add some spice to the round and see if you can beat a par player. Set up a fictitious player with no handicap and play a match game. No gimmes allowed. Great practice for your next Club Championships. Learn more about Match Play.
  Hedge your bets
Combine Dots and Trouble in a round and really make those bad shots count. A real test of concentration and mind strength. Learn more about Dots and Trouble.
  Nassau vs Sixes
Sixes is Nassau but Nassau is no Sixes. In Sixes you play 3 Nassau games with a different partner every six holes. Make individual performance really count, you'll have no one but yourself to blame. Learn more about Nassau and Sixes.
  Scrambling king
You are no Arnold Palmer or Seve Ballesteros, but are you a better scrambler than your friends? Add an Arnies side bet and prove it. The Arnies crown for the round goes to the player with the most pars or better without driving the fairway. Learn more about Arnies
  Putting jitters
If putting is not unnerving enough for you add a Snake side bet. The Snake, and the lunch bill, goes to the last player to 3-putt. Make that last 3-footer feel like a championship putt every Sunday. Learn more about Arnies.
  Hungry like a Wolf
Yes Chi Chi's Wolf! For many, the king of betting games, but boy it's hard to score! Teams for each hole are chosen by the Wolf, who can also play solo. Use Beezer Golf and focus on the drives and choose wisely. This game will challenge both your golf skills and your decision making. Learn more about Wolf.
  You are left with a threesome
Don't worry, we got you covered. You can still play many games but try Nines or Three ball. Both fun games designed for 3 players. Play Nines if you prefer games where all hole scores count, Nines splits points per hole based on scores. If you are a fan of match play choose Three ball, and play individual matches against each other.
  The Match is over
You had a bad round and lost the game but there are several holes to play. Make them count and add a short match. Enable the Long/Short match option and recoup some of the losses, maybe. Learn about Match Play.
  Presses
Here's the skinny, a press creates a new match, you can press the new match but a pressed match cannot be pressed again, you can press as many times as you like, accepting a press is customary but not mandatory. Complex? Don't worry, Beezer will not let you mess it up. Be smart when pressing and always check who has the stroke advantage.
  Love Scotch but…
We are not talking alcoholic concoctions but be our guest if it settles the nerves. 5-point Scotch and 6-point Scotch are probably the fairest betting games. Unlike other match play games, where a good round by a team member can win the match, in Scotch both player's performance matter. Betting is also exhilarating when you add the Blitz option, have a great hole and make it really count. Learn more about Scotch.
  I'm not that good
You can still have some fun. High handicap players tend to be high beta players, i.e. their scores fluctuate greatly from hole to hole. When a few lucky shots can win the match, focus your betting on Dots games. Bingo Bango Bongo is the standard, it's easy, rewards good play, and takes into account most aspects of the game. Learn more about Bingo, Bango, Bongo.
  Running like a Rabbit
Catch me if you can. The Rabbit goes to the person to hold the lowest score last. Part of the golf animals games, the Rabbit is a single-bet side game that can help offset a bad round or pile on the winnings. How was the round? I was the Rabbit. Learn more about Rabbit
  Why play Stableford
Because by virtue of its scoring system, Stableford caps bad scores at double bogies without removing the value of good holes. Hence, it has become a popular alternative to stroke play for amateurs that can see a decent round go sour by a blowout hole. Learn more about Stableford
  Play multiple games
Games are designed to reward or penalize different parts of the golf game. In stroke play, the final score is what matters regardless of how you get there; on the other hand, points games reward or penalize good or bad shoots; and match play games are real character tests. Try adding one of each in your next round for a more balanced competition. Try Stableford + Four ball + Trouble on your next round.
  Scotch: Blitz out, press on
If you like stronger emotions, add a Blitz to your Scotch game or even presses. Both can double the bet on each hole. The Blitz doubles the bet on a hole sweep. Use with caution.
  Team Match Play scoring
Team match games offer three scoring options: low net, 2nd ball tie breaker and two balls. When teams are evenly handicapped, use the second ball as a tie-breaker, or even better, use two balls is a where all scores count.
  To Auto-press, or not Auto-press.
There's real strategy behind presses, confidence level, strokes, number of holes, historical performance, players strengths. Auto-press removes all of it but it also removes contention on press acceptance. We don't like it but the option is there.